É o que afirma Gabriele Boccaccini em novo livro.
BOCCACCINI, G. Paul's Three Paths to Salvation. Grand Rapids, MI: Eerdmans, 2020, 182 p. – ISBN 9780802839213.
"Não precisamos mais separar Paulo do judaísmo para reivindicar seu cristianismo", escreve Gabriele Boccaccini, acrescentando que "nem precisamos separá-lo do movimento de Jesus para declarar seu judaísmo". Com este princípio orientador, Boccaccini desvenda as implicações da "pertença" de Paulo simultaneamente ao judaísmo e ao cristianismo para chegar à conclusão de que há de fato três meios de salvação:
. Para os judeus, adesão à Torá
. Para os gentios, boas obras de acordo com a consciência e a lei natural
. Para todos os pecadores, perdão pela fé em Jesus Cristo
Os três caminhos para a salvação de Paulo é uma tentativa de reconciliar as muitas facetas da complexa identidade de Paulo, injustamente acusado de intolerância. O esforço de Boccaccini em restabelecer a figura de Paulo como um mensageiro da misericórdia de Deus para os pecadores é uma contribuição importante para o debate atual sobre o lugar de Paulo no mundo pluralista contemporâneo.
Gabriele Boccaccini é professor da Universidade de Michigan e autor de várias publicações sobre o Judaísmo do Segundo Templo e as origens cristãs. Ele é o fundador e diretor do Seminário Henóquico, um grupo acadêmico de especialistas internacionais dedicados ao estudo do Judaísmo do Segundo Templo, do Cristianismo e do Islamismo, que compartilham os resultados de suas pesquisas no campo e se reúnem para discutir temas de interesse comum.
"We no longer need to separate Paul from Judaism in order to claim his Christianness," writes Gabriele Boccaccini, adding, "nor do we need to separate him from the early Jesus movement in order to state his Jewishness." With this guiding principle Boccaccini unpacks the implications of Paul's "belonging" simultaneously to Judaism and Christianity to arrive at the surprising and provocative conclusion that there are in fact three means of salvation: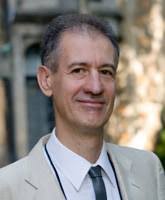 . For Jews, adherence to Torah.
. For gentiles, good works according to conscience and natural law.
. For all sinners, forgiveness through faith in Jesus Christ.
Paul's Three Paths to Salvation is an attempt to reconcile the many facets of Paul's complex identity while reclaiming him from accusations of intolerance, and Boccaccini's work in reestablishing the figure of Paul as a messenger of God's Mercy to the sinners is an important contribution to the ongoing conversation about Paul's place in the contemporary pluralistic world.
Gabriele Boccaccini is a professor at the University of Michigan and the author of numerous publications on Second Temple Judaism and Christian origins. He is the founding director of the Enoch Seminar, a forum of international specialists in early Judaism, Christianity, and Islam affiliated with the Society of Biblical Literature. In 2019, he was awarded knighthood by the president of Italy in recognition of his contribution to Italian culture in the world.