Currents in Biblical Research Volume 18 Issue 3, June 2020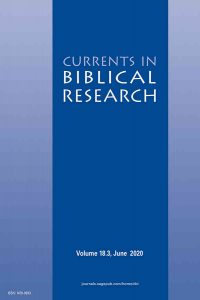 The Peshiṭta of Isaiah in Past and Present Scholarship – Preston L. Atwood
In this study I outline the scholarship pertaining to the Peshiṭta of Isaiah (S-Isa) and expound on specific topics in need of further research. I begin by recounting the process of S-Isa's manuscript collation and its culmination in Leiden's editio minor. Relatedly, I explain the role of citations in the patristic literature for reconstructing the original text of S-Isa. Then, I address how scholars approach the question of S-Isa's relation to the Old Greek (G-Isa) and Targum (T-Isa) of Isaiah. I move on to summarize the studies on the translation technique of S-Isa and explain how they have aided in determining the degree to which S-Isa may have been influenced by G- and T-Isa. I continue by adumbrating the debate on the authorship and theology of S-Isa and problematizing certain assumptions brought to the discussion. I conclude by offering a few reflections on the future of S-Isa scholarship.
Case Studies in Recent Research on the Book of Numbers (with Attention to Non-Western Scholarship) – Mitchel Modine
Scholarship on the book of Numbers continues apace, even if there is not a famous commentary that everyone must always cite. Numbers figures especially prominently in recent work on Pentateuchal source criticism. This survey will examine several recent offerings that contribute in various ways to the ongoing discussion. In addition, particular texts within Numbers continue to excite attention, both from historical-critical and postmodern perspectives. Therefore, this article will devote attention to three texts that have drawn particular attention in the past 15 years: the sotah ritual in Numbers 5, Phinehas's killing of an Israelite man and a Moabite woman in Numbers 25, and the inheritance request of the daughters of Zelophehad in Numbers 27 and 36. In all of these areas, recent offerings from non-Western scholars will receive particular attention.
The 'Temporal Turn' in New Testament Studies – Lynne Moss Bahr
Reflecting a recent trend across academic disciplines, New Testament scholars are beginning to explore the concept of time and temporality, a concept not well-developed in the field. This article surveys this scholarship from the basis of three inter-related categories: social memory and historical narrative; queer and feminist theory; and apocalypticism and messianism. It addresses the question: How does the concept of time (generally, the idea of continual change) and temporality (concepts and orientations related to the experience of time) serve historical, literary, and theological aims in the New Testament? Further, the article proposes new areas of research that would expand on earlier work and also draw upon the burgeoning field of time and temporality in other disciplines.
Ethics and the Gospel of John: Toward an Emerging New Consensus? – Christopher W. Skinner
For decades the scholarly consensus held that the Fourth Gospel was either devoid of ethics or that its ethical material was narrow, exclusive, and sectarian. In recent years, that consensus has begun to show signs of wear. This article examines the more recent turn to 'implied' ethics by looking at four English-language books on the subject published in the past four years. This examination is undertaken with a view to tracing a newly emerging consensus, which holds that (1) the Gospel of John has ethical material, and (2) that material must be taken seriously by those reflecting on ancient ethical systems in general and New Testament ethics in particular. Further, the emerging consensus holds that the implied ethics of the Fourth Gospel, far from being strictly sectarian, are useful for reflecting on and/or constructing models of normative Christian behavior.