Atualizado em
CHAPMAN, H. H. ; RODGERS, Z. (eds.) A Companion to Josephus. Chichester, West Sussex, UK: Wiley Blackwell, 2016, XVI + 466 p. – ISBN 9781444335330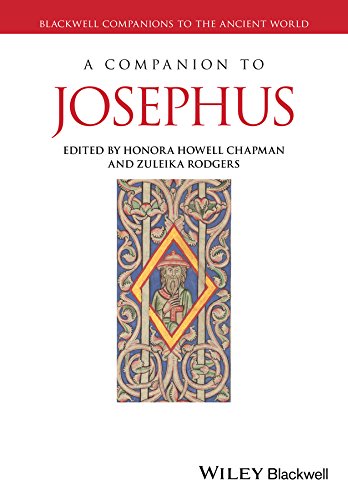 A Companion to Josephus presents a collection of readings from international scholars that explore the works of the first century Jewish historian Flavius Josephus.
Represents the first single-volume collection of readings to focus on Josephus
Covers a wide range of disciplinary approaches to the subject, including reception history
Features contributions from 29 eminent scholars in the field from four continents
Reveals important insights into the Jewish and Roman worlds at the moment when Christianity was gaining ground as a movement
Contracapa
Considered the most important historian of Jewish antiquity, the works of Flavius Josephus offer unparalleled insights into the world of Late Second Temple Judaism, the dawn of Christianity, and the early years of the Roman Empire. "A Companion to Josephus" presents a collection of readings that probe deeply into aspects relating to the four extant works of the first century Jewish historian Flavius Josephus. Featuring contributions from more than two dozen renowned international scholars specializing in Josephus and related studies, readings introduce the writings of Josephus, put them into historical contexts, explore their transmission and reception, and highlight contemporary scholarly approaches to two millennia of Josephan studies. Following an examination of the four individual texts and their manuscript tradition and situating the writings of Josephus among contemporaneous Greek, Roman, Jewish, and Christian works, a wide variety of themes are explored–the archaeology of Galilee, military history, the Jerusalem Temple, women, Jewish rulers, and more. Further readings follow the transmission and reception of the Josephan corpus along its remarkable journey from Late Antiquity through to the Medieval, early Modern, and Modern periods. In the first single-volume scholarly guide to Josephus, "A Companion to Josephus" sheds important new light into the writings of an eyewitness to a pivotal point in world history.
Blackwell Companions to the Ancient World
This series provides sophisticated and authoritative overviews of periods of ancient history, genres of classical literature, and the most important themes in ancient culture. Each volume comprises approximately twenty‐five and forty concise essays written by individual scholars within their area of specialization. The essays are written in a clear, provocative, and lively manner, designed for an international audience of scholars, students, and general readers.
As organizadoras
Honora Howell Chapman is Professor of Classics and Humanities at California State University, Fresno. She is a former co-chair of the Josephus Seminar/Group of the Society of Biblical Literature and has published articles and book chapters on literary aspects of Josephus's writings.
Zuleika Rodgers is Lecturer in Jewish Studies and Director of the Herzog Centre at Trinity College, University of Dublin. She was President of the British Association for Jewish Studies (2013–2014).
Leia Mais:
Flávio Josefo, homem singular em uma sociedade plural